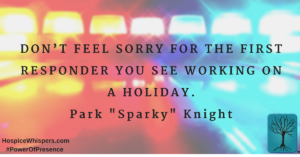 Don't Feel Sorry for the First Responder You See Working on a Holiday, guest blog by Park "Sparky" Knight (a 3 minute read) —First published on 12/26/17 by the author on a social media post.  It was too good not to share, and I am grateful to Sparky for graciously allowing me to do so. 
I do not feel sorry at all for the first responders out there working on Christmas Day today. In fact, I'm jealous and I miss the times I did it. For back then I had been welcomed to feasts at fire and EMS stations that you have never seen the likes of and dined with old friends alongside strangers that I just met. 
I have sat in a parking lot late at night and exchanged stories of our youth and the presents under the tree through the open window of a car with other officers. 
I have raced through the night the blue and red lights of my vehicle dancing off the trees and fog responding with a purpose you may never have felt.
I have walked into dispatch with the decorations, cookies and matching elf hats to be greeted with smiles and warmth and twisted humor you will never experience.
I have been invited into stranger's homes and seen decorations that range in detail from what they could barely afford to Walt Disney himself must have been involved. All displayed with heart, purpose and soul.
I have had strangers offer to buy me breakfast, lunch or dinner knowing fair well that I could afford it much more than them. 
I have been invited to that secret room behind the nurse's station where hot cocoa with tiny marshmallows and love is served without expectation of anything in return.
I have been present in stranger's homes when the holiday has turned to panic and explained that my friends and I are here to help.
I have been in attendance at shift briefings where on that special day it is acceptable to openly express the camaraderie that you have an entire second family of very decent people you know you can count on.
I have been first on scene to a tragic situation being the only one there that knows that I am not alone. Soon the area will be filled with my friends and colleagues that are also working that holiday and have the capability of bringing hope and order to the situation.
I have sat late at night in my car and heard the voices of young people caroling from door to door. Sounds of which would make angel's hearts warm. 
So, don't feel sorry for the first responder you see working on a holiday. A little respect is fine but feel jealous instead. For they have experienced things you never will and felt things you will have no ability to understand. 
They don't have to hear stories about hope, love and renewal. They make them. 
As Christmas day slowly becomes the next day I would like to thank all of my friends that are still working to make a difference and wish all of you a Happy New Year.
About the Author:
Park "Sparky" Knight joined the Texas A & M University Police Department in June of 1987 where he served as a Police Officer. He also served as the F
aculty Staff Advisor for Texas A&M's Emergency Care Team, the student medics who served campus events and were the first responders after the Bonfire Collapse in 1999, where he and Carla first met and almost instantly became family.
He retired in December of 2015 and now enjoys his leisure time and travels to reconnect with students he met and worked with along the way.
 About the blog host: