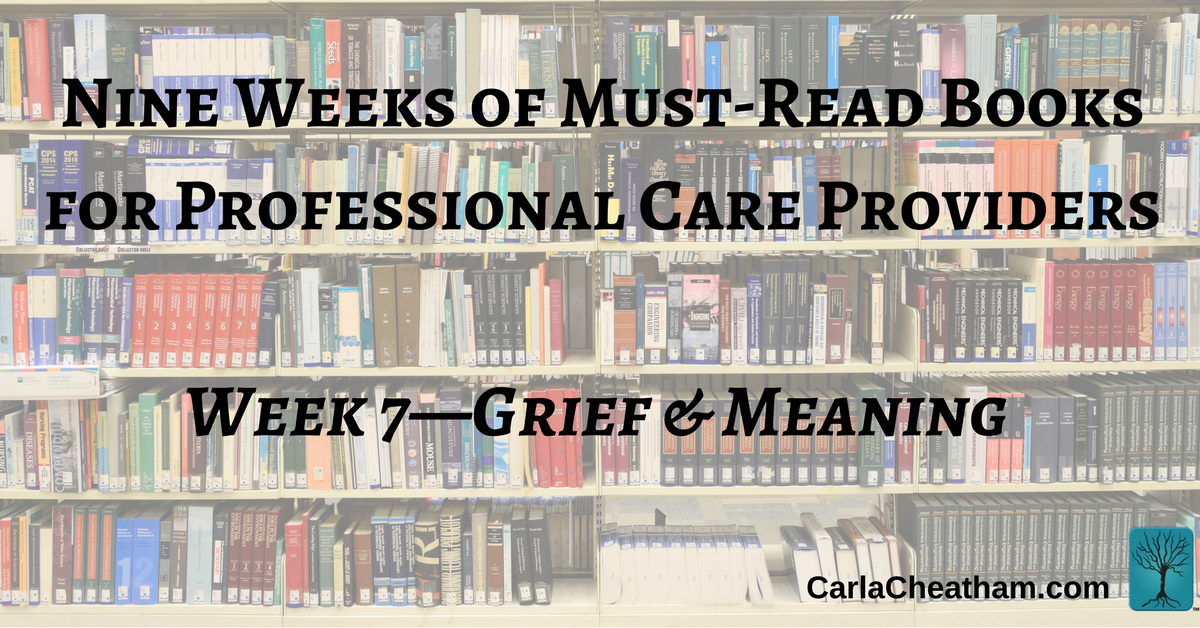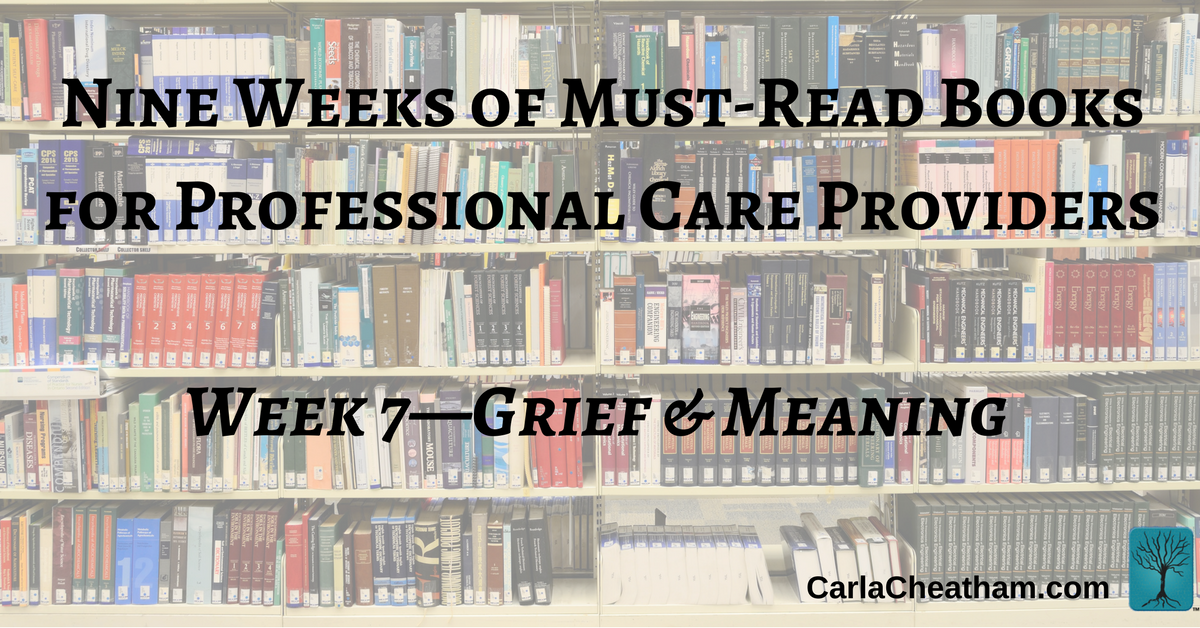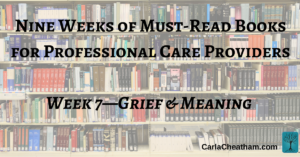 Nine Weeks of Must-Read Books for Professional Care Providers
Week 7—Grief & Meaning 
With the cold weather, it's more tempting to curl up and read, so I'm posting the books and videos I most recommend to caring professionals and to which I refer in my trainings.  It's not an exhaustive list and does not necessarily contain the latest titles, but they're what I know works to support us while we prepare ourselves to support others.  I hope you find these helpful. 
Grief & Meaning
Song for Sarah: A Mother's Journey Through Grief and Beyond, Paula D'Arcy
I first heard Paula speak years ago, and was immediately taken in by the quiet gentleness of her spirit.  It easily flows through her and to others, even in her writings, and one cannot help but be moved.
When Paula was 27 years old, she, her husband, and 2-year old daughter, Sarah, were hit in a head-on collision by a drunk driver.  Both her sweet husband and daughter were killed.  Paula was 7 months pregnant.  In this tender book, Paula walks us through her dark night of the soul as she shares the letters she wrote to Sarah over the next year as a means of coping, coming to terms, and finding meaning in such a meaningless tragedy.
Readers are given a front row seat to a mother's grief process with this book, and in so witnessing Paula's journey, find more peace and strength and meaning for their own.  Whether you have experienced your own grief, want to be better able to show up for others', of both, or even just want to be a better human being, this gorgeous little book is for you.
On Grief and Grieving, Elisabeth Kubler-Ross
Dr. Kubler-Ross interviewed hundreds of persons who were dying about their experience and wrote THE book that helped us begin to understand dying and grief.  In this text, she goes even further into helping us learn directly from those who are dying and those loved ones who are left behind what grief can look like and what the process of finding healing can look like.  As we develop a new relationship with the one who is no longer there, Kubler-Ross writes, we find new meaning and a way to continue having that person in our lives while moving on with others.
This book contains many nuggets of wisdom and will give both those bereaved and grief workers insight, tips, and even a bit of a roadmap that is helpful when walking an unfamiliar and unwelcome road.  It contains such simple wisdom, gleaned from those who've walked this journey, in an up-front way that makes it very easy to follow.  Everyone will be the better for reading this book.
The Will of God, Leslie Weatherhead
Weatherhead was presiding at the Cathedral in London while the city was being bombed during the world war.  The series of sermons he preached then about the will of God became a classic that remains so today.  This tiny book will knock your socks off!  Weatherhead challenges us to re-think the things for which we accuse God, since we are often quick when disaster strikes to call it the will of God.
But God's will is not necessarily singular, according to Weatherhead, who proposes that instead it consists of concentric circles that begin with God's Intentional Will (how things would work best), God's Circumstantial Will (how things might work out best given the circumstances that occur when persons exercise free will and follow something other than God's Intentional Will), and God's Ultimate Will (beyond which nothing will move outside, such as the laws of gravity and love and life eventually winning over hate, fear, and death).
Weatherhead even leads us to reconsider our view of Jesus' crucifixion, in a way that may curl your toes but will definitely make you think.  Regardless of whether you agree with his views, his straightforward manner that proceeds gently without harshness or shame toward others makes this a delightful read that will make you at least rethink everything you thought you knew about God's will and how we understand the unfolding of life around us.  One of my all-time favorite books, ever!
The Sunflower: On the Possibilities and Limits of Forgiveness, Simon Wiesenthal
A Jewish man who survived the concentration camps writing about forgiveness is hard to ignore.  If ever there was a moral authority on what it means, and whether and how, to forgive, it would be those who lived through and then had to find a way to live after such a truly unthinkable horror in our world's history.
Forgiveness naturally contains elements of grief as we are required to let go of our old stories about who we thought we were, who we thought others were, how we thought life would be, let go of hopes and dreams and feelings of safety, etc.  That grieving that opens the door to forgiveness is necessary to find true freedom from imprisonment.
This book is not a prettied up version of life and its autrocities.  It does not offer easy answers, but instead poses hard questions.  Thinking and feeling your way through those, as you follow Wiesenthal and his wisdom on his journey with forgiveness, will humble and change you in profound ways.  If he can forgive…Read this one slowly with a journal nearby.
Anything by Bob Neimeyer, William Worden, Ken Doka, and Alan Wolfelt
These experts in grief each have their own approach to the topic, but each powerful in their own way.  Here's a sampling, and some of my favorite, of their many works:
Neimeyer speaks of the use of narrative to re-story and find new meaning in our grief.  A powerful tool for those grieving, and professionals seeking to support them.  I'm a big believer in the power of stories to help us process and find increasing peace.  Neimeyer supports this with research that demonstrates the actual impact narrative work can have in this brilliant text.
Worden's classic views on the mediators and tasks of grieving have helped frame our understanding and are supported in this text by data from the ever-growing body of research.  Both scholarly and practical, this is one of the texts I keep on my desk and to which I refer often!
Doka covers a variety of topics in his writings, and was the very person to introduce us to many concepts for which we did not yet have a name, such as disenfranchised grief.  This is THE text on the topic.
Doka's newest work takes his previous offerings even further, with new insights and data to support anyone seeking to navigate the muddy waters of grief, each in their own unique way.  He dispels many of the myths about the way grief "should" be done and treated and opens up a new way of seeing grief, beyond stage theories, that many lay persons may not yet have learned.  A timely and incredibly important addition to the field.
Wolfelt speaks of companioning those who are grieving in a way that moves beyond diagnosis and labeling and, instead, offers presence and witnessing of pain in a way that helps those hurting find their own answers in their own way in their own time.  A great addition to the field.
Sharing Our Stories: A Hospice Whispers Grief Support Workbook, Carla Cheatham
NOTE:  This workbook will be FREE to download (eBook) through Amazon.com this coming Sunday and Monday 2/26 & 27!!!
After the publication of the original book of 38 stories of my work as a hospice chaplain, I was stunned by the number of persons who contacted me to tell me how much the stories helped them process their own.  Persons spoke of finding new understanding and insight into their own grief, the actions and words of others, their responses, the ways their loved one who died handled such things, etc., and in gaining such deeper understanding were able to process their grief and find an easier space for it.
So, I wrote this workbook with reflection questions based on the themes of grief in each of the stories, extra information about grief, and poems and quotes by and for those suffering from their own loss.  I'm very proud of the way it gives gentle guidance while encouraging persons to find their own way through their own story.  If you or someone you know is hurting, this workbook may be just the guide they need to find another layer of healing.
As always, I hope something here has been helpful or inspiring.  Be watching for next week's post on books related to Care for Persons with Dementia.  Until then, please share your own most-recommended reads with me, so I can share them with others.
Learn more about the trainings I provide at http://carlacheatham.com/trainings
Peace,
Carla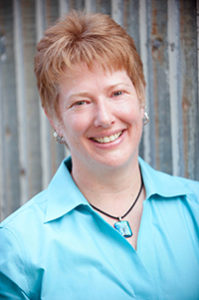 Rev. Carla Cheatham, MA, MDiv, PhD, TRT has served hospices as a chaplain and bereavement coordinator.  She's the Section Leader for the Spiritual Caregivers Section of the National Hospice and Palliative Care Organization and an adjunct professor at the Seminary of the Southwest.  Through her Carla Cheatham Consulting Group, Carla provides training and consulting for professional caregivers nationwide.  She is the author of Hospice Whispers: Stories of Life and its companion volume, Sharing Our Stories: A Hospice Whispers Grief Support Workbook.  Her next book, On Showing Up with Suffering: Others' and Our Own, is set to publish in 2017.