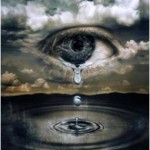 The following is the 1st in a series of 7 posts to help us be there for those who are grieving, especially during the holidays.  The content is taken from my presentation, "How Not to (Unintentionally) Say Something Stupid: BE-ing With Those Who Are Suffering" © 2013.  All rights reserved.  Feel free to share/re-post, but please don't otherwise present it without my permission.
Why is it so difficult to be with others when they are in pain?  My short list of top reasons:
1) It reminds us of our own vulnerability to the icky things that happen in life.
2) It reminds us of any of our own pain or grief or fears we've not resolved and try to avoid looking at and dealing with.
Our discomfort with others' discomfort can lead us to brush over their pain and emotionally abandon them when they need us the most.  I think we all mean well and really WANT to show up for others, but lots of things stop us.  Which are your top barriers?
Fear not knowing what to say?
Fear saying the wrong thing?
Feel the need to fix it?
Uncomfortable with pain and tears?
Uncomfortable with silence?
Others_______?
Tomorrow, and over the next week, I'll share some tools to help us overcome these barriers.  But the best foundation I know of is this—
I trust the person to find his or her way through this exactly as they need to, which means I don't have to fix it! 
 I don't need to, and I don't get to.  This journey is theirs, and I can walk with them without taking it on as my own, which disrespects and dishonors everyone involved.
The reading that helps me remember this the most is what I leave you with today.   I hope you find it meaningful and helpful.
"Being a Midwife" by Lao Tzu
The wise leader does not intervene unnecessarily.  The leader's presence is felt, but often the group runs itself.  Lesser leaders do a lot, say a lot, have followers and form cults.  Even worse ones use fear to energize the group and force to overcome resistance.  Only the most dreadful leaders have bad reputations.
Remember that you are facilitating another person's process.  It is not your process.  Do not intrude. Do not control.  Do not force your own needs and insights into the foreground.  If you do not trust a person's process, that person will not trust you. 
Imagine that you are a midwife.  You are assisting at someone else's birth.  Do good without show or fuss.  Facilitate what is happening rather than what you think ought to be happening.
If you must take the lead, lead so that the Mother is helped yet still free and in charge.  When the baby is born, the mother will rightly say: "We did it ourselves".
from pg. 33 of Heider, J. (1985) The Tao of Leadership: Lao Tzu's Tao Te Ching Adapted for a New Age. Atlanta, GA: Humanics Limited.
Peace,
Carla