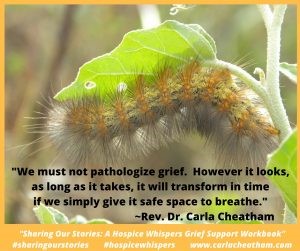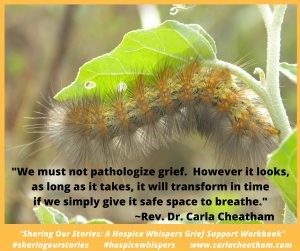 We do not "treat" grief, we sit with it, so neither should we pathologize it.
One of the most poignant, and challenging, presentations in my training curricula is about Being with Grief Expressed as Conflict and Anger.
It is easy in the caring professions to feel overwhelmed by those who "come at" us with their anger or push back in conflict against the care we are trying to extend.
How often have we heard colleagues, or ourselves, calling a patient or family members "crazy", "resistant", "entitled", "control-freaks", etc." when really what we are dealing with, what the patients and families are expressing, is part of the normal, healthy, understandable grief process as they grapple to come to terms with a world that has been turned upside down?
Bereavement isn't a nice, neat, tidy, linear process that always looks like quiet, dainty tears or even the Oprah "Ugly Cry".  Those expressions of grief can be MUCH easier for us to accept and respond to with compassion than grief that comes out as anger.
And conflict? What we often label as such is usually simply a part of the "bargaining" portion of the process of grief.
Bargaining isn't just what we often think of as, "Mom, if you get me a puppy I'll clean my room every day" or, "God, if you'll let this not be cancer, I'll be a nicer person."
Bargaining can also show up around and after a grief-event in the form of "If Only…"
"If only the doctors had paid attention…
"If only she had gone in sooner…
"If only I hadn't…"
"If only YOU had…"
We think we need to feel as if our world is predictable and under control in order to feel safe. If bothers us to remember that absolute safety is an illusion. Threats to that sense of illusion and sense of orderliness can throw us off kilter.
One easy defense mechanism to feeling in control again is to find some "reason" for why things happened as they did. If there is someone to blame, even ourselves, then we don't have to feel so threatened by the vulnerability of living this messy, imperfect, often unpredictable life.
So our brains will make bargains to explain away the unexplainable. This can look like conflict amongst families and resistance to treatment.
If we respond with logic or defensiveness to the actual emotion that is being expressed in a thinly-veiled disguise, we miss the boat, and miss the opportunity to serve the true needs being expressed. We miss the chance to care for and resolve the situation effectively.
Now, to be clear, it NEVER feels good to be attacked, especially when we're trying to help. But if we take these moments personally, and if we are not aware of our own relationship with anger and conflict, then we may get triggered and our defenses come up, making us of no use to anyone–not them, and not our professional role in that moment.
When we are triggered in this way, we also may lose our hold on logic and go into an automatic emotional response of fight, flight, or freeze.
On the exterior, we may SOUND logical, reasonable, explanatory, calm, cool, and collected and professional…but this may just be a very sophisticated defense to protect us from the anger and conflict that scares us!
Our discomfort leads us to distance ourselves from their pain, and from them, which does no one any good, erodes trust and connection, and leaves grief sitting alone out in the cold with only our logic for comfort.
One of my trainers and co-presenters recently shared with a group his own realization about how still and quiet he gets when conflict and/or anger arises near him, but not in a calm way. No, he's panicked and shut down as a protective measure, which means he checks out and leaves the other feeling abandoned, whether it's his wife or a patient and family.
Knowing this about himself, he pays attention and notices when this happens so he can work to both take care of his own internal discomfort AND consciously stay present with the situation, even if he needs to step away for a few moments to catch his breath and then come back in a better place.
It was a gift for this respected man to admit this to a room full of colleagues, with acceptance for his own humanness and ownership of his own growth and a lack of shame or self-deprecation.
It led to a rich conversation where participants were similarly vulnerable and honest, with themselves and each other, about their relationship with anger and conflict and how to improve their ability to respond.
Hear me, I do NOT advocate allowing ourselves to be someone else's emotional punching bag. Supporting someone else in being abusive doesn't serve anyone. But we can still have boundaries and do good self-care AND show up well for others without pathologizing their grief or the way it is being expressed.
Sometimes, we think we are being damaged by someone else, when actually, we aren't.
Buddhist teacher, Pema Chodron, tells the following story about what we call heaven and hell, good and bad, etc. It reminds us that many things only exist as the stories we tell ourselves:
"A big burly samurai comes to the wise man and says, 'Tell me the nature of heaven and hell.' And the roshi looks him in the face and says: 'Why should I tell a scruffy, disgusting, miserable slob like you?' The samurai starts to get purple in the face, his hair starts to stand up, but the roshi won't stop, he keeps saying, 'A miserable worm like you, do you think I should tell you anything?' Consumed by rage, the samurai draws his sword, and he's just about to cut off the head of the roshi. Then the roshi says, 'That's hell.' The samurai, who is in fact a sensitive person, instantly gets it, that he just created his own hell; he was deep in hell. It was black and hot, filled with hatred, self-protection, anger, and resentment, so much so that he was going to kill this man. Tears fill his eyes and he starts to cry and he puts his palms together and the roshi says, 'That's heaven.'"
So what is the story we are telling ourselves about another's motives and intentions, feelings and facts (the stories they are telling themselves?), and how it really does, or does not, impact us?
How can we let go of those stories in order to not take another's words or energy or emotions or accusations personally and simply be present without defense, hearing the emotion that needs room to be acknowledged, validated, accepted and even just to move and breathe?
Think of it this way–
How did your parents, or primary adults in your life when you were a child, express their anger and/or handle conflict?
Now, how did each of them respond to the other's style of expressing anger or handling conflict?
So we have two expressive styles and two receptive styles for anger and conflict.
Which did you adopt?
Because the chances are, you learned and now use one or the other if even to a small degree–it's pretty hard-wired in after seeing it modeled from birth!
At about this moment, when I use this exercise in trainings, the room grows veeeeerrrrrrryyyyy quiet as lightbulbs go off. A few participants will nod their heads with a knowing smile, because they've done this part of their own personal work and they know where they tend to get tripped up by conflict and anger.
Others wriggle in their seats and look at their watches, wishing their phone would ring with an emergency with a patient, giving them an excuse to step outside.
And others sit and breathe and let it sink in.
And then I remind them of this quote that I often use from University of Houston School of Social Work researcher and professor of TED Talk and Oprah fame, Brené Brown:
"Feeling vulnerable, imperfect, and afraid is human. It's when we lose our capacity to hold space for such struggles that we become dangerous."
None of us got into this field to become dangerous.
When we are not aware of our own internal struggles, they will unconsciously drive our interactions with and reactions to patients and families with whom we work.
I remind them that none of this is an invitation to shame, but compassionate understanding of ourselves, and others.  The goal is not to be perfectly evolved or infallible. The key is to be aware and truly present; to be mindful enough of our own "stuff" that we are aware when it gets stirred up when dealing with others.
If we tend to it, grow with it, and learn to respond rather than react, what an unprecedented difference we will make in the lives for whom we show up…
…starting with ourselves!
Peace,
Carla
Taken from the Presentation "BE-ing With Grief Expressed as Conflict and Anger" (c) 2013 SCIE Publishing and Carla Cheatham Consulting Group, LLC. All rights reserved. Please feel free to share this content with proper attribution and credit given.  To learn more about my training and consulting business, go to www.carlacheatham.com