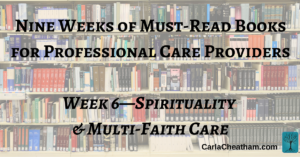 Nine Weeks of Must-Read Books for Professional Care Providers
Week 6—Spirituality and Multi-faith Care 
With the cold weather, it's more tempting to curl up and read, so I'm posting the books and videos I most recommend to caring professionals and to which I refer in my trainings.  It's not an exhaustive list and does not necessarily contain the latest titles, but they're what I know works to support us while we prepare ourselves to support others.  I hope you find these helpful. 
Spirituality and Multi-faith Care
Making Healthcare Whole, Christina Puchalski & Betty Ferrell
I tell others that if Oprah calls and my business takes off or if I win the lottery, I'd buy a copy of this book for every single person in healthcare.  Two gurus of palliative care, Puchalski and Ferrell know how important spirituality is for persons going through a life crisis.
Their book lays out an impressive argument, with supporting research, for the respectful inclusion of spirituality into healthcare.  They provide a model and tools that make it more accessible for patients and families by making it more comfortable for professionals to include it in their daily practice of care.  Definitely a worthy read!
Paging God: Religion in the Halls of Medicine, Wendy Cadge
A professor of sociology, Cadge brings these skills to this fascinating look behind the veil, exploring the visible and invisible ways professional care providers in hospitals include religion in their practice of medicine.  Through interviews and observation, she gains keen insights and provides an interesting viewpoint of the ways healthcare integrates patients' and professionals' spiritual lives into the daily ups and downs in the sterile, yet human, environment of healthcare.  An intriguing book I highly recommend.
How to Be a Perfect Stranger: The Essential Religious Etiquette Handbook, Stuart Matlins & Arthur Magida, Eds.
I keep this book available for my colleagues in whatever healthcare setting I find myself, and recommend others do, too.  Think of it as "quick flips" for many of the major religions and denominations or sects of those religions one may find in the U.S.  It's written to help persons know how to dress and act in order to be respectful when visiting houses of worship different than your own.
However, it had brief explanations about beliefs and rituals, including around the end of life, that can help all disciplines in healthcare feel a bit more prepared to engage with persons from other cultures and faiths in a way that is respectful and comfortable for all.  Keep this text handy!
The Little Book of Atheist Spirituality, Andre Comte-Sponville
A philosopher and former religious believer, Comte-Sponville moves past the angry rhetoric and debate over religion that often exists, and provide a gentler voice to discuss the often contentious question of God.  As I teach respectful care for the existential needs of non-theists (atheists, agnostics, and humanists) to healthcare staff, including chaplains, I urge them to consider this delightfully compassionate book.
My goal is not to convince others to alter their beliefs, and neither is Comte-Sponville's.  The goal is to increase understanding and improve the ability to have respectful, even compassionate, dialogue around what can be a very charged topic for many.  The more we understand, the less we fear; the less we fear, the more likely we will be to show up well for patients and families who do not share a theistic belief system.  Give this one a try.  You'll be all the better for it.
Stages of Faith, James Fowler
After conducting hundreds of interviews with persons about their faith journey Fowler, a developmental psychologist, developed a stage theory, based on Piaget's stages, of how our faith matures.  While some have criticized Fowler's work as being too Christo-centric, others point out that it can be applied to persons of any faith or ideology.  The more we understand faith as a multi-faceted, often evolving part of an individual's life the better we can truly meet them where they are at any given time.
I find this text appropriate for spiritual care providers, social workers, and other counselors, but nurses and physicians could also benefit from a deeper understanding of how our faith develops, ebbs, and flows over the course of our life experiences.  You'll learn about yourself and gain greater insight into others with this text.
Relating to People of Other Religions: What Every Christian Needs to Know,Thomas M. Thangaraj
In a very sweet and engaging way, Thangaraj reveals his own struggles and thoughts when getting to know someone of another faith and how the journey strengthened his own.  For those being asked to care respectfully for persons of another faith or belief system, this can be challenging at first.
Many whom I've taught have resonated with the reflections and struggles the author openly admits in the book and benefit from his ways of reconciling his love for his neighbors and his previous views.  This book will help you clarify your own faith while opening up to have more respect for others'.
If Grace is True: Why God Will Save Every Person, Philip Gulley & James Mulholland
Another text I recommend to trainees is this one written by two Quaker ministers on their view of universal salvation.  In their view, if grace is grace, then grace must really be full on grace, no exceptions.  Sharing their own struggles with scripture, tradition, reason, and experience, Gulley and Mulholland make their case for a grace that is bigger than we can even comprehend and they do so in a gentle way that makes it easier for the readers to follow and consider.
Again, I do not ask folks to read this to change their beliefs, but to help them wrestle with their views to hopefully widen them enough to make room for others' faith, so that they may provide professional and respectful care for persons of all backgrounds and ways of believing.
Once again, I hope something here has been helpful or inspiring.  Be watching for next week's post on books related to Grief and Meaning.  Until then, please share your own most-recommended reads with me, so I can share them with others.
Peace,
Carla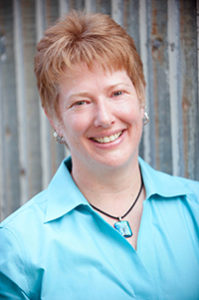 Rev. Carla Cheatham, MA, MDiv, PhD, TRT has served hospices as a chaplain and bereavement coordinator.  She's the Section Leader for the Spiritual Caregivers Section of the National Hospice and Palliative Care Organization and an adjunct professor at the Seminary of the Southwest.  Through her Carla Cheatham Consulting Group, Carla provides training and consulting for professional caregivers nationwide.  She is the author of Hospice Whispers: Stories of Life and its companion volume, Sharing Our Stories: A Hospice Whispers Grief Support Workbook.  Her next book, On Showing Up with Suffering: Others' and Our Own, is set to publish in 2017.