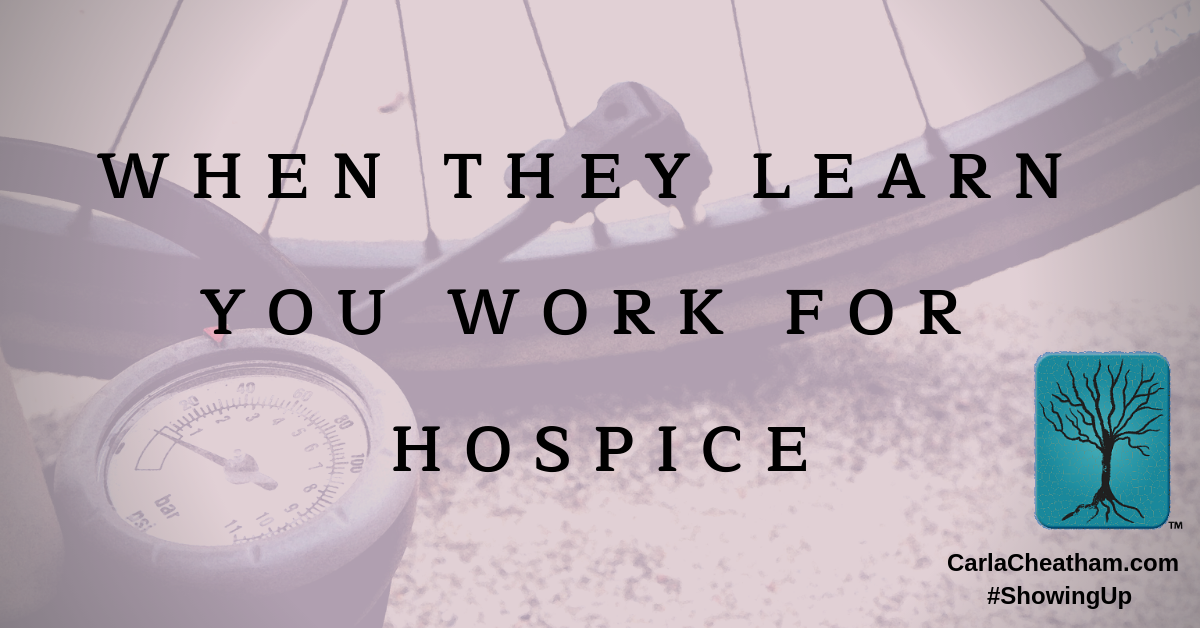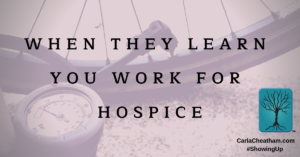 WHEN THEY LEARN YOU WORK FOR HOSPICE (a 5 1/2 minute read)
"I often joke that if you want to suck all the air out of the room at a dinner party, tell folks you work for hospice…"
I was asked to write more about how to "recover" when we as hospice staff, or any type of caring professionals,
experience various reactions from others when they learn what we do for a living. Whether we're out socially or
even at the grocery store, we often face *gasps* and looks of sympathy or repulsion or admiration followed by,
"Awww, you work for hospice…?!".
Below are just a few examples of how others respond to the news and how  I work to balance being caring while also caring for myself. Like anything, my strategies are a work in progress, so I look forward to hearing what YOU experience and do, as well.
Taking Time Off…
One self-care ritual I teach to healthcare staff revolves around their name badge. The goal is to avoid thinking
about work until they put their badge on for the day. Then, at the end of their shift, I encourage them to debrief
whatever they need to from their day and then, once their badge comes off, to put their workload and concerns
from their shift down and leave them there.
I have a special place I keep my badge and I leave my work concerns there with it. I do my best to not pick
them back up until I put it on the next time. It seems to help many of us because it's a tangible boundary we
set for ourselves and a commitment we make to our loved ones to not bring our work, or the energy of it, home
with us.
We need moments when we're not "on" as a hospice worker, with all the expectations and assumptions that
knowledge can bring up in others. There are times when I literally do tell the friends I go out with, "Tonight, I do
NOT work for hospice. I screw toothpaste caps on toothpaste tubes in the toothpaste factory for a living!"
I honestly do LOVE it when people tell me their stories…most of the time. But there are days I need a break, to
just be Carla and not any of my titles or roles; to not figuratively wear my badge that indicates I'm a helper and
open for business. If I don't take time off, I become a crispy critter not fit for human consumption.  Practicing
what I teach about good self-care is the BEST gift I can give to others, even when they don't like me having a
boundary, at least not with them.
I do care. I do want to listen. And I also need space to listen to myself, first, so I can hear others from a grounded, centered place from which I can bring my best self, (not a hot-fried mess).
Most often if I or someone else spills the beans about what I do for a living and I see and/or feel people start to
react to the news, I'll quickly respond as gently as I can, "It's actually the best gig I've ever had, and even the
most fun. But I'm off duty today, so who's seen the newest Star Wars movie…?" The goal is to politely decline
to go there, to respectfully set a boundary that I'm not up for having that talk today.
Protecting Myself From Being a Pariah…
Holding my boundaries when I'm off duty can also be about refusing to pick up the Grim Reaper scythe,
because the news can be quite a downer for the party's energy, and it never feels good to be the "buzz kill."
People sometimes edge away from me and visually scan for the nearest exit or excuse to go talk to someone
else, if they're uncomfortable with death.
Other times if I face the social obligation of responding to, "What do you do?", I'll give the honest answer,
quickly followed by the toothpaste factory line. They usually laugh in relief, as it lets them off the hook from
talking about a squeamish topic and gets me out of having to deal with what I know isn't rejection of me, but
cumulatively can be wearing.
Putting Down the Halo…
It's quite an honor to receive persons' gratitude for this work we do, and to be told so often what "angels" and
"special people" hospice workers are.  I never want to verbally or emotionally shove gratitude back at someone
and shut them down. That doesn't feel good either.
But let's face it, that freaking halo can get reeaaallly heavy!!  Just like we need time to not wear our badges, I
think we also need time to just be human, have a drink, smoke a social cigar, tell an off-color joke, make out on
a date, whatever it is that we would never do in front of patients and families.
The point is to not have to be an "angel" or "special person" all the time.  We have to be able to be real and
down to earth and shop for groceries and have a bad day and even have meltdowns and a touch of road rage
without feeling like we're diving head first off of others' pedestals.
Besides, we've all seen what happens when public figures begin to believe their own press. We don't want to
fall into the trap of thinking of ourselves as constant heroes or somehow above the rest of humanity and
become pompous arses on one extreme or burned out shells of humans on the other.
So in the face of such admiration, I'll thank them and then say, "But you know, I missed the first three days of
fractions in 3rd grade and never caught up, so I think it also takes special people to be accountants…" and I
smile.  It may take them a moment, but then they get it: We can all do our work in a special way if we just show
up well for others, regardless of what our job title may be.
It levels the playing field and I've found it to be an easy and yet connective way to politely decline the invitation
to the top of the medal stand. It helps keep me humble (hopefully), and protects my own neck and back, as
well as my social life, from the weight that comes with special status.
How to Not Listen Without Being an Ogre…
Again, I do love collecting and hearing others' stories. People fascinate and inspire me. Besides, as an author
I love a good tale. But sometimes people still need a place to process their grief, and when others find out we
regularly play in that sandbox they come running to show us their toys.
Please hear me, I don't mean to be crass or belittling to those who are in a place of grief and deserve to have
their stories heard again and again as long as they need to tell it. What I do mean to say is that we can softly
decline to be at work when our badge is off.
Cabbies turn off their lights when they aren't on duty so folks won't   feel abandoned on the side of the street when the yellow car passes them by. We can, too. Just because someone around us has a need, doesn't mean it is our responsibility to fill it.
We get to have limits. We get to have time off. We get to cry "uncle!" when we've had enough. We are not to
be used. We are not here to be taken advantage of, though I am certain that is never the intention of someone
who needs to tell their hospice story.
If I have it to give easily, I will listen to their story and offer words of support. If I don't have it to give, however, I
owe it to everyone to take care of myself by not trying to give others a drink from my empty well.
So when I do not have it to give, I typically listen for a moment, then place a kind hand on their arm and quietly
say, "I appreciate and want to hear your story, but…(I'm distracted by the gathering, promised my family I
wouldn't work tonite, am pretty exhausted from my week, etc.). I'd be glad to (have coffee, chat by phone, talk
afterward, find another time) later when I have my full attention to give you."
That's just an example of some options. Find what feels genuine and right for you and your personality and
voice. But find something. Make a game plan with a friend before you go out who will agree to come and play
"extract the bereavement counselor/chaplain/CNA/nurse/physician/social worker/staff member/volunteer" and
help you find a way to gracefully exit.
Allowing persons the dignity of finding their own sources of support from loved ones or professionals and not
rescuing them in the moment when they happen to stumble upon a hospice worker does not make you, or me,
a bad guy. We are not abandoning them.
Our title is not an open invitation that means we must listen to anyone, anytime, anywhere anymore than it is
fair or appropriate for me to drag a mechanic out of a cocktail party to change my oil on the spot because I'm
overdue for an oil change.
Again, I don't mean to be crass about emotional pain, but if I'm cavalier about my own needs, I'll burn out my
engine and be no good for anyone.
How to Not Take One For the Team…
Other times, a person's experience with hospice has not been positive. We aren't perfect. We do make
mistakes and have service failures. Personalities collide, miscommunications happen, values conflict,
expectations go amuck, and grief can get taken out on hospice professionals and agencies. I was verbally attacked by a former friend who had a very negative perception of her experience with hospice surrounding the use of artificial nutrition with her loved one. I don't know the story. I wasn't there. But I became a target when I posted an article about end of life choices that hit a tender spot for her, and it was on.
She called my ethics into question and the frustration she felt about her situation came out at me in a flurry.  At
first, I listened and tried to be a space of healing for her obviously complicated grief. There came a point,
however, when I had to put down the rope and refuse to play.  I simply didn't have it…and, it wasn't my job to
fix her experience of pain. I felt for her, but long ago a wise therapist colleague said, "We help no one when we
allow them to be their worst selves, so do not volunteer to be their punching bag."
Certainly, there are therapeutic exceptions when clinical judgment says we refrain from taking transference
personally and offer others safe space to work through their stuff, but I wasn't her counselor, nor was I her
chaplain. I wasn't getting paid and we had negotiated no treatment or care arrangement of any sort. I was not
obligated to hold space for her struggle, because holding such space takes energy that I get to reserve for my
work while using my down time to do just that, let down.
Sometimes, just like listening to others' grief stories, I'll listen if I have it easily to give. But if I don't, I put my own oxygen mask on first before I try to help others breathe.
I don't know how these will land with you.  I'm curious about other scenarios and responses you have found
that work well. I hope you'll share them, because this work is challenging enough and it helps to know that we
aren't alone in navigating sometimes choppy waters.
Peace to you…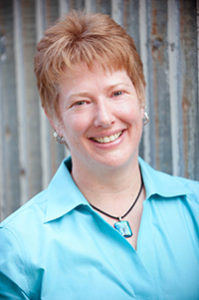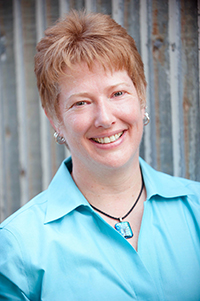 Rev. Carla Cheatham, MA, MDiv, PhD, TRT has served hospices as a chaplain and bereavement coordinator.  She's the Section Leader for the Spiritual Caregivers Section of the National Hospice and Palliative Care Organization, Chair of NHPCO's Ethics Advisory Council, and an adjunct professor at the Seminary of the Southwest and an Affiliate Associate Professor at the University of Maryland.  Through her Carla Cheatham Consulting Group, Carla provides training and consulting for professional caregivers nationwide.  She is the author of Hospice Whispers: Stories of Life and its companion volume, Sharing Our Stories: A Hospice Whispers Grief Support Workbook.  Her next book, On Showing Up with Suffering: Others' and Our Own, is set to publish in 2019.