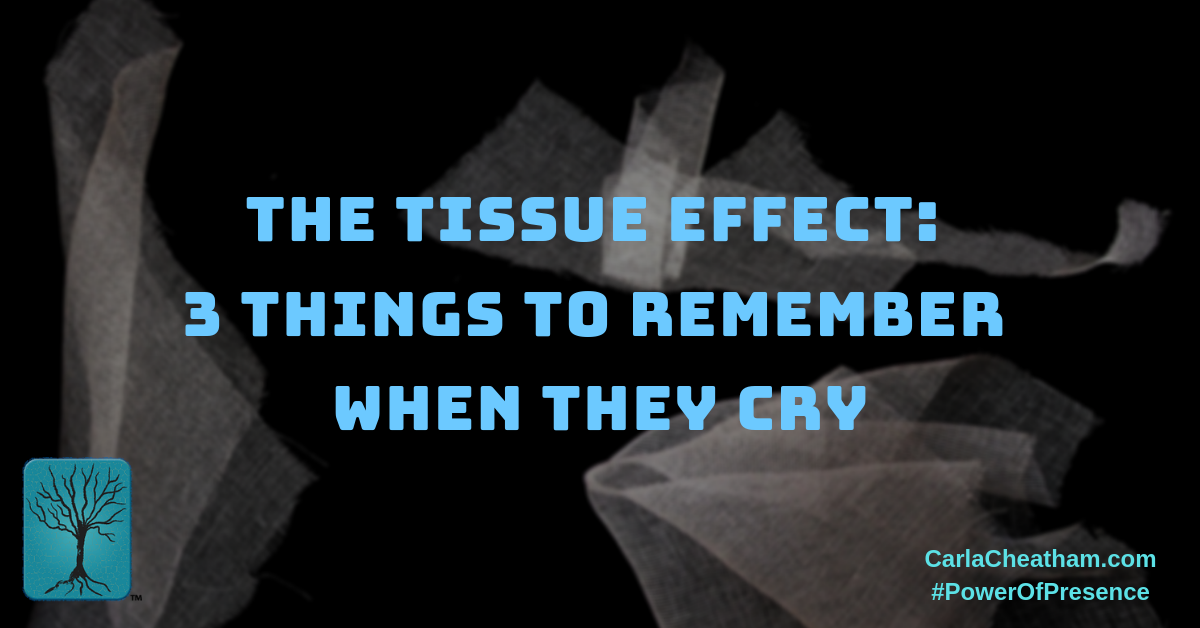 The Tissue Effect: 3 Things to Remember When They Cry  ( a 3 minute read)
When I speak via webinars or in person about BE-ing with Suffering, I'm often refer to "The Tissue Effect" and get a lot of questions about it.  Below are 3 things to remember when patients, clients, friends, or even the checker at the grocery store, cry in our presence.
1.) Do NOT hand them a tissue.
When someone cries, what do most of us automatically do? Yep. That's right. We scramble to hand them a tissue.  It's almost as if milk has been spilled and we're in a hurry to wipe it up. It gives us something to "DO" when sitting with the discomfort of tears feels too much for us.
It even seems like the polite thing to do. To leave someone sitting there with tears (and other fluids) streaming down their face without offering a hankie or Kleenex can feel dismissive and uncaring. That is why counselors are trained to keep plenty of tissue boxes around, within arm's reach of any seat in the counseling room. That way, they have access to what they need, but we are not put in the position of handing one to them, and here's why.
Without meaning to, what can we subtly imply when we hand someone a tissue as they cry?  Yep. That's right. "Stop crying!".
We may not intend to communicate that. But tears still have such a stigma of shame about them in our portion of the world that any hint of our discomfort with tears, added to the person's own internalized shame about crying, can be enough to shut them down along with the emotions that may be releasing, as well.
2.)  Find a way to sit comfortably with your discomfort.
Of COURSE tears make us uncomfortable. It's hard-wired into our DNA to be on alert to the hint of any threat to the herd or tribe and respond immediately to make certain everyone is safe. The cries of a child signal us that something is needed.  The cries of someone in trouble or injured need our quick attention.
But the tears associated with emotional release are a different kind of critter. They do not need to be "fixed". They need space to move and breathe. When we constrict against them, they can feel even more intense. But when feelings are given room to just BE, the simple freedom can relax the intensity, if even just a bit.
Tending to our own need to tend to others' emotional expressions instead of BE-ing with them is a huge step in our ability to show up well for others when they're hurting. 
Many fears come up subconsciously for us: What if others think I caused their pain? What if others think I'm a clod for just sitting here and DO-ing nothing?  What if others judge me for being a bad (counselor, nurse, physician, social worker, spiritual care counselor, volunteer, friend, human being, etc.) because I'm not "making" them feel better (as indicated by them ceasing to cry)? These are just a few examples.
Another fear is that the tears will go on forever! I've heard research that indicates, however, that most persons cry on average of, guess how long…? Only 20 seconds! It can feel like an eternity, but if someone around you starts crying, just remind yourself that you can sit with it for 20 seconds, so just hang on.
Just give them a little room and a little time and a LOT of your non-anxious presence and you will have given them FAR more than you could have ever imagined, I promise!
3.) If you feel you just MUST offer a Kleenex, say something like this…
In the seventh and last post of my series on BE-ing with Suffering I mention the following,
"And please, if you do just HAVE to offer them a Kleenex, make sure you tell them this isn't code for 'please stop crying', but support for them to feel free to continue crying as long as they need without being distracted by snot and tears!"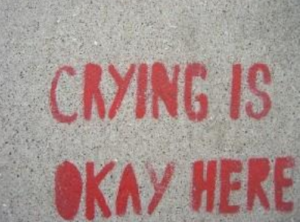 When I do offer a tissue, I reach it half-way to the person and stop, not in a teasing "psych-out" way, but in a pause that gets their attention. I gently say, "Please know I'm giving you this NOT so you'll stop crying, but so you can feel comfortable crying as LONG as you need to."
And then I sit quietly. If I know them well enough to know that touch is welcome, I may reach out a hand at some point, palm up, half-way. They are then welcome to take it and squeeze it in thanks and then let go if it's not needed, or to grab it and hang on for dear life as long as they need.
If I don't know them, and it seems appropriate, I sit silently for several minutes. At some point, if my gut nudges in that direction for their sake, not because I need to DO something, I may say, "If a hand would help, I'm here."
Both of these actions are a matter of being finely attuned, paying attention to them and what they indicate they need and not moving too quickly at the risk of jarring them out of their feelings and back into their heads. Even such a kind offering can be another unwitting invitation to them to "suck it up", which is the last thing we want to do.
Sometimes, they may welcome the break from their feelings. But other times, we've just cut off a faucet that doesn't open easily or often, yet may need space to be cleared.
It is a subtle and significant art that will vary by personality, relationship, and circumstance, but one we can improve by being more intentional about our presence and noticing what we do and why we do it.
Constantly checking in with ourselves, rather than moving on auto-pilot to offer a tissue for instance, can sometimes reveal that what we are doing is more about tending to our own needs and discomfort rather than theirs.
The better we know, the better we'll BE, which is most often the very best thing to "do".
Peace to you…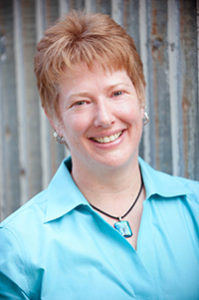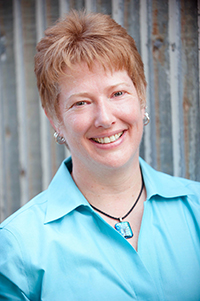 Rev. Carla Cheatham, MA, MDiv, PhD, TRT has served hospices as a chaplain and bereavement coordinator.  She's the Section Leader for the Spiritual Caregivers Section of the National Hospice and Palliative Care Organization, Chair of NHPCO's Ethics Advisory Council, and an adjunct professor at the Seminary of the Southwest and an Affiliate Associate Professor at the University of Maryland.  Through her Carla Cheatham Consulting Group, Carla provides training and consulting for professional caregivers nationwide.  She is the author of Hospice Whispers: Stories of Life and its companion volume, Sharing Our Stories: A Hospice Whispers Grief Support Workbook.  Her next book, On Showing Up with Suffering: Others' and Our Own, is set to publish in 2019.