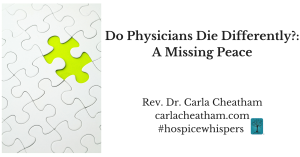 Do Physicians Die Differently?: A Missing Piece Peace  
There's been a lot of excitement lately about research articles that some say indicate physicians die differently than do the rest of us.  Certainly, there are some differences.
One recent study in the Journal of the American Geriatrics Society for instance, demonstrated that physicians do appear to utilize hospice significantly more often than non-physicians in the last 6 months of life (Matlock et al, May 2016).
But as I've read these recent reports, I've worried that perhaps we are making a bit more of the results than is completely fair, or even accurate.
We end of life professionals and advocates want very badly to prove what our gut tells us is true–that those who understand the comfort, dignity, and quality of life hospice can provide will choose our services rather than pursue unnecessarily aggressive "hail Mary" treatments in their final days and hours.
The study authors even wrote,
"Because physicians are intimately familiar with the health care arena, they are uniquely aware of potential benefits and limitations of modern medicine…Their medical knowledge allows for a better understanding of prognosis. As a consequence, it was hypothesized that physicians would approach their own death and dying differently than someone without the same level of understanding and experience."
It's easy to make this assumption, and understandable that we want it to be true.  But we do everyone a disservice when we forget that it's not that simple.  Knowledge alone doesn't always help us make wise decisions.
While found to use hospice more often, the physicians studied were also found to receive hospital care as much as the rest of us and used the ICU and critical care even MORE than non-physicians in their final days!  
So they don't die quite as differently as we had hoped.
Perhaps those physicians studied who opted for hospital and critical care services in the last 6 months of life instead of hospice were among the large number of docs who still don't really understand who we are, what we do, and what life and death with hospice support can look like.  That would point us in the direction of even more education in medical schools and beyond.
But there's another possibility we must consider.
Could it be that, even if physicians do understand hospice care and hold a positive view of what we can provide for them and their families, they are just as susceptible to the trappings of grief and fear as the rest of us?
We like to think that we make decisions logically, but we truly don't.  Our mammalian brain can be taught the facts all day long, but until our limbic system (seat of emotions) is calmed and reassured, little effective change occurs.
For example:
Theories of health behavior and predictors of behavior change postulate that attitudes play a significant role in our health choices, and that attitudes are comprised of both affective (feelings of comfort vs. discomfort) and cognitive (stereotypes and knowledge) components.
I teach about this a lot when I train healthcare staff in the ethical and competent care of persons of all cultures, backgrounds, and belief systems—discomfort with an outgroup (someone different than us) is only minimally impacted by instruction that increases our knowledge about that outgroup.
(Check out my "Sweet Spot" blog series at hospice times.  I'll be addressing this topic there, soon) 
Prejudice research demonstrates that our attitudes are most impacted by the number of close, positive, personal connections we have with a member of an outgroup by increasing our comfort (the affective component) and debunking our stereotypes (a portion of the cognitive component).
In short, no amount of education can make our guts feel better about a decision.
We know this.  If we think about it, we get it.  End of life care decisions are not just about our knowledge of the medical options and an understanding of the cost-benefit analysis between quality vs quantity of life.
We know that sometimes, even when everything indicates it's time to finally allow life to unfold to a natural end, even the most intelligent and well-informed can still demand to fight for dear life.  We've seen it happen too many times.
In those moments, and there are many we see in our line of work, we know that unresolved grief, fears, baggage, relationship ruptures, spiritual distress, etc. can be a tremendous factor in whether or not we are ready to let life happen, which includes allowing natural death.
So I'm curious if we're forgetting to notice a huge part of the equation in this whole conversation about whether and how and by how much physicians really do or do not die differently than the rest of us.
Even knowledge can't over-ride the heart when it is unprepared, issues are unresolved, relationships are unrepaired, and when we are afraid.
If that is the case, and I strongly suspect that it may be, then we have a whole new path of "education" to pursue–preparing our hearts to catch up with our brains; teaching ourselves to have the hard but liberating conversations about our fears and our grief; giving room for our vulnerable feelings to be spoken aloud so they need not fester alone in silence.
Suppressed grief suffocates, it rages within the breast, and is forced to multiply its strength.                 ~Ovid, Tristium, V, 1, 63.
I do not mean to imply in any way that physicians are any less evolved, emotionally mature, or spiritually aware than the rest of us.  I just wonder if we're missing a piece of the picture, here, when we make it purely about what they know in their heads.
If we treat physicians as if they "should know better", we fail in our calling to provide patient-centered care, because we do not SEE them–as men and women who are children and parents and siblings and spouses and friends who are intelligent and talented and capable of fear and grief and anger and uncertainty.
Certainly, we must educate healthcare professionals and lay persons about the benefits of hospice in providing the end of life most of us say we want—in our homes with our loved ones and no bells or whistles.
But we must also increase our grief literacy, so we are not baffled when knowing the "facts" about medical decisions doesn't result in what we believe to be wise decisions.
In this industry we tend to speak of death as being very much like the process of birth. There's waiting and expectation, struggle and labor, then stillness and peace as something new has occurred.
There are things we can do to prepare ourselves to cope more easily with labor pains at the end of life that have to do with so much more than a comfort kit of medications!
As we push for better awareness and practices to decrease the physical symptoms before death, may we not forget to allow social workers, spiritual care counselors, and bereavement counselors to also prepare our hearts so our grief and fears and doubts will not be unnecessarily complicated, either.
Wise teachers have been talking about this need for readiness for death so we can fully live, for some time. It isn't new.
I think perhaps we just need to remember to take it into account when we so easily slide into looking at knowledge as being only about our education and brain cells.
We have much to teach ourselves, and each other, about what hospice can provide at the end of life.  Let us not forget the soft skills that can help us prepare now for the deep breathing that will help us through our anticipatory grief, our relationship struggles, and spiritual angst…
And find a truly different way for all of us to die.
Peace…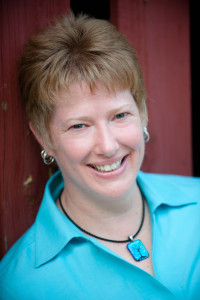 Rev. Dr. Carla Cheatham is a hospice chaplain and bereavement coordinator in Austin, Texas, an adjunct professor at the Seminary of the Southwest, the Section Leader for the Spiritual Caregivers Section through the National Hospice and Palliative Care Organization, and a weekly guest blogger for Hospice Times.
She is the lead speaker for Carla Cheatham Consulting Group, LLC and the author of "Hospice Whispers: Stories of Life".  Her next book, "Sharing Our Stories: A Hospice Whispers Grief Support Workbook" is scheduled to publish September 2016.  Learn more at carlacheatham.com or on her Hospice Whispers Facebook Page.