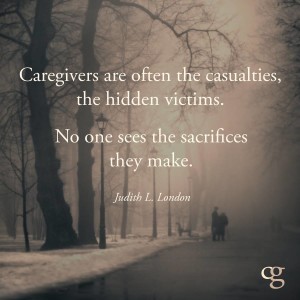 This meme came across my timeline on Facebook and, because I so believe in the quote, I wanted to share it with you.  It's by author and psychologist, Dr. Judith L. London, who speaks of caregivers as "unsung heroes".
If you've been the caregiver, you likely know both statements to be true.
Sometimes, having others acknowledge it, too, makes a tremendous difference.
I just hung up the phone with my best friend, and as we discussed what was going on in our lives the past couple of days we each spoke about how powerful it is simply to be compassionately witnessed by another–when a child is being fussy in the store, a friend or loved one disappoints us, or when life is all too life-y and we feel like we're barely hanging on.
To have another notice our plight in those moments, offer an encouraging wink or phone call or meal, and essentially say, "I see you.  I know it's hard right now, and you're not alone in this" can tie a knot in the end of our rope so we don't fall off.
To have our feelings affirmed and our circumstances normalized can relieve us of the weight of judgment we fear from others and shame we feel toward ourselves.
Perhaps one of the times we most need the protective power of such caring connections is when we're caring for a loved one who is living with a chronic and/or terminal illness, including those with Alzheimer's and other dementias.
The emotional and physical risks the family members who are caring for a loved one face cannot be overstated, because our society doesn't yet truly understand the gravity of the situation.  
We hear the stories far too often, "Mom was the sick one and dad took care of her, but the next thing we knew Dad was in the hospital and gone before we could accept what was happening.  He was the healthy one!"
Or…
"Mom did everything for Dad since his stroke.  She said it was her privilege to do this for him and wouldn't let us help.  Then one day she fell, and then fell again in the rehab hospital.  Now they say she's not coming home and we suddenly have to find some place for both of them to be cared for.  We're all reeling in shock."
But the idea of asking for and accepting help can have barbed-wire fences around it for some folks and others may be desperate for help and not be able to find support to give them a break.
Until we are able to fix that part of our healthcare system that is broken, we staff daily serve family caregivers who need us to give compassionate witness and to tie impeccable knots in the ends of ropes.
One of the most "chaplainy" things I do for family caregivers in my work as a hospice chaplain is say, "Of COURSE you feel that way…"
If I say nothing else, often that's more than enough to see some immediate relief.
I wrote about this very issue in the short story called "Of Course You Feel That Way".  Here's an excerpt:
"Loved ones are grappling with a myriad of emotions, some of them are difficult to admit such as: 'I don't know how much longer I can keep putting myself through this.  That's not my wife anymore.  It's awful!'  Or even, 'I wish he would just go ahead and die and end this misery'
Even as these words are spoken, the guilt arises:
'Listen to me, how selfish can I be? How could I ever abandon her?'
'People must think I'm horrid to not be here every day.  How heartless am I?  It's not like it's his fault.'
It is completely normal to want to avoid pain.  Sometimes, it can be a warning sign that taking a step back is the sane and caring thing to do for everyone involved. 'This is a marathon, not a sprint,' we often remind families. 'You're allowed to keep some reserves in your tank so you don't burnout before this race is over.'
In fact, it is critical that family caregivers find a way to avail themselves of good self-care. Research tells us caregivers are substantially more likely to suffer from depression, anxiety, autoimmune diseases, etc., and may experience an accelerated aging of their immune system (Bennett, Fagundes, and Kiecolt Glaser in Immunosenescence, © Springer Science+Business Media New York 2013).  Similarly, loved ones are found to be up to 63% more likely to die if they experience the caregiving as a strain (Schulz and Beach, JAMA, 1999).   Sacrificing ourselves for those we love serves no one.
The balancing act between self-care and support for an ailing family member is an art that no one can define for another person.  Each person must find his or her own way—but finding a sane way is a must.  The desire to care for a loved one can easily slide from well-intended responsibility and love into running ourselves absolutely ragged; sometimes out of necessity and other times as a means of avoiding our feelings of grief.
As staff members, we spend as much time as anything else we do normalizing caregivers' feelings and encouraging them to be gentle with themselves. We validate them with: 'Of course you feel that way!'  We even give families permission to not HAVE to visit so much.  'Find the pace that works well for you, so that when you do visit you have something to give him and you go home with something left for yourself and the family waiting for you there.'
Simply acknowledging the doubts, frustrations, anguish and fears; and allowing them the feelings, to be seen, accepted, and even normalized by others, can help tremendously.  Those aren't burdens anyone should have to carry alone."
(from "Hospice Whispers: Stories of Life", (c)2015 SCIE Publishing)   
Compassionate witness, affirmation, normalization, encouragement, and meaningful and support presence can be the greatest tools we in healthcare can have in our bags.  Let us help those victims suffer in silence, no more, as we name the issue, share our stories, and talk about creative solutions.
Peace…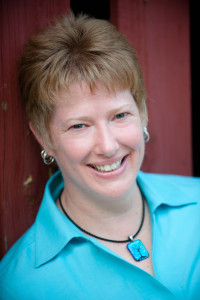 Rev. Dr. Carla Cheatham is a hospice chaplain and bereavement coordinator in Austin, Texas, an adjunct professor at the Seminary of the Southwest, the Section Leader for the Spiritual Caregivers Section through the National Hospice and Palliative Care Organization, and a weekly guest blogger for Hospice Times.
She is the lead speaker for Carla Cheatham Consulting Group, LLC and the author of "Hospice Whispers: Stories of Life".  Her next book, "Sharing Our Stories: A Hospice Whispers Grief Support Workbook" is scheduled to publish September 2016.  Learn more at carlacheatham.com or on her Hospice Whispers Facebook Page.