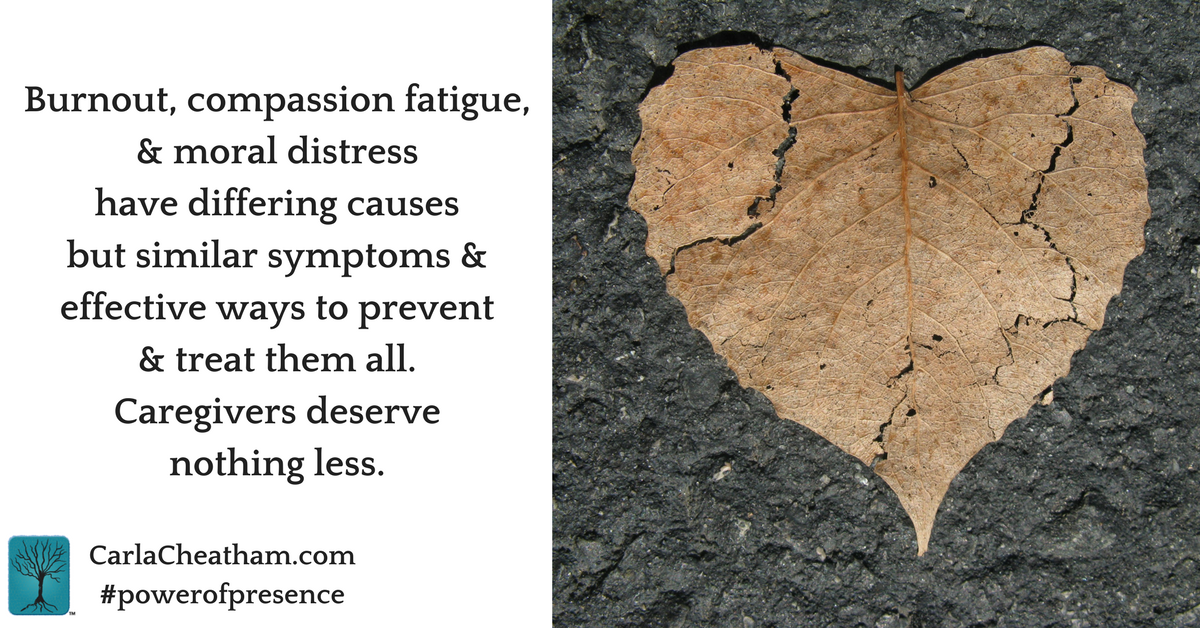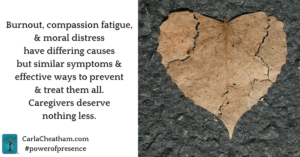 Retaining Emotional Health in Professional Caregiving Part III: Risks and Symptoms
This is an on-going series from my presentations on the use of ethical boundaries and resilience to maintain both healthy professionals and teams as well as prevent compassion fatigue and burnout.
Each person will experience and manifest burnout and compassion fatigue in their own way.  It is natural to feel irritable, exhausted, less or more sensitive here and there in the natural course of life.  These can simply be a signal that we're due for some time away and a greater infusion of self-care or that a situation in the workplace or with a client has gotten under our skin.  In either case, it's a cue to pay attention.
Often, simply being aware of what's going on inside of us can be enough to ease the tension.  At other times, after a particularly severe and/or long-term situation of strain on our compassion muscles or challenging workplace situation, we must take time repair and steps to heal, just as if a muscle has been overworked or injured.
Suggestions for prevention of and intervention during such times will come later in this series.  For now, take note of the risks and symptoms for which to watch.  As mentioned previously, there are various forms of burnout, vicarious trauma, etc. with their own distinguishing causes, risks, symptoms, and even diagnostic criteria.
For most of this series, I'll be using compassion fatigue as the global term for what we can experience as professional caregivers, but I do want to take note of some of the unique risks for burnout and compassion fatigue since differing causes can require differing prevention and intervention techniques.
As mentioned in Part II of this series, burnout was once considered to be about people-oriented jobs, but over time came to be seen by researchers to be more about:
work overload            values conflict
lack of reward            lack of community
lack of fairness          lack of control (with this one being of particular impact)
(Maslach, Schaufeli, & Leiter, 2001)
Compassion fatigue is more about care expenditure surpassing our care intake, to put it simply.  When we're caring for others and the balance between what goes out and what goes in is skewed, we don't have enough left inside of us to give.
Sometimes, it arises from the gradual residue of caring for dying patients or grieving families, or persons suffering emotionally, mentally, and/or physically day by day and we don't realize we aren't taking sufficient time to offload that residue and care for ourselves.  Other times, it can be an extreme case, or one that hits our own personal tweak buttons (I'll talk about those later in the series) so that we feel it more extremely, that drains us in an acute way.
As we think about risks and symptoms, there are some distinctions that are important to consider between burnout and compassion fatigue, especially given the current state and culture of professional caregiving as having more stress and less support.  Both can involve feelings of helplessness and control, conflict and frustration, emotional distress, decreased effectiveness on the job, etc.
With burnout, however, you may be more likely to see helplessness and frustration that is related to feeling put-upon, overworked, or otherwise misused in a workplace situation that seems unethical and/or unfair with inadequate compensation, recognition, connection, support, or options for making things better.  The frustration here, then, is more about the dynamics of the business, leadership, and colleagues.
One may feel similarly frustrated, out of control, helpless, and as if things are unfair when a child is dying and nothing can be done to stop the progression of an illness, for instance.  Here, the risk is more likely for compassion fatigue and moral distress rather than burnout, though they can arise simultaneously.
Burnout will likely involve more anger toward the workplace while compassion fatigue and moral distress may involve more existential angst with life and frustration or guilt about not being able to make things be different.  With burnout, folks may be inclined to try less because of the helplessness and frustration with a system that just won't seem to change.  With compassion fatigue and moral distress, they may push harder to try to make things better for a patient.
I've often been asked to come into a team to help them with their compassion fatigue only to find out they are actually dealing with burnout.  It's not the patients and families with whom they work that's pulling down morale, it's the dynamics with colleagues and leadership and the system of their workplace.
Sometimes it's both!
That is why, when leading trainings about burnout, compassion fatigue, and team morale, I speak about how to handle both the things we can change as well as take care of ourselves in the face of what we cannot.  I'll cover those in this series because it is a vital distinction that can either help us find freedom or drive us under even further into feeling victimized and helpless, which isn't good territory for anyone!
These dynamics also exist for family caregivers, not just professionals.  When caring for a loved one, if a person feels put upon and unfairly used or unsupported, they are more likely to suffer deleterious effects on their health.  So they may feel compassion fatigue from day in and day out care, but also may experience caregiver burnout from lacking support, reward, lack of community and connection and so on.  It's a rather universal phenomenon.
I'll discuss more about the risks and symptoms in the next post, bringing in some of the research that tells us about what seems the most likely predictors of our distress.  There ARE things we can do to care well for ourselves, no matter what our situation or which combination of the above we are facing.  We can prevent and intervene when we find ourselves in a not good place.
For now, please hang in there knowing that you are not weak, you are not crazy, and you are not alone.  Your colleagues across the country in all forms of professional caregiving industries are facing similar circumstances, similar struggles, and similar feelings.  You will find your way through this and, while you do, there is support available to take care of you for a change.  We'll pick up with more of it next week.
For what it's worth.
Peace,
Carla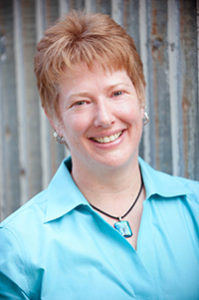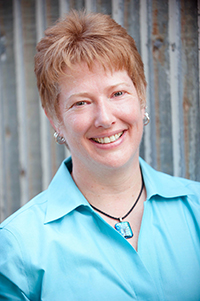 Rev. Carla Cheatham, MA, MDiv, PhD, TRT has served hospices as a chaplain and bereavement coordinator.  She's the Section Leader for the Spiritual Caregivers Section of the National Hospice and Palliative Care Organization and an adjunct professor at the Seminary of the Southwest.  Through her Carla Cheatham Consulting Group, Carla provides training and consulting for professional caregivers nationwide.  She is the author of Hospice Whispers: Stories of Life and its companion volume, Sharing Our Stories: A Hospice Whispers Grief Support Workbook.  Her next book, On Showing Up with Suffering: Others' and Our Own, is set to publish in 2017.