Nine Weeks of Must-Read Books for Professional Care Providers
Week 1—Centerings for Team Meetings & Personal Meditations 
When I first got into writing and publishing, I was surprised to learn that December was not the biggest month for book sales; it's January, when everyone is redeeming their gift-certificates!  My guess is that it also doesn't hurt that it's cold and dreary in many places, which is an even better time to curl up with a good book.
I'll be spending the next several weeks providing recommendations of books I believe are helpful for professional caregivers, and anyone really, to read for their personal and/or professional development.  Some are old classics while others you will likely be new to you.
These aren't intended to be in-depth, critical reviews nor are they exhaustive lists.  I'll simply be describing some of the books, and even videos, that have been most helpful to me in my practice and the books I draw from and refer to when I train professional caregivers.  I'll describe what I like about each and why, as well as how I use it in my practice.
I'll cover the following categories over the next 9 weeks:
Centerings for Team Meetings & Personal Meditations
Personal & Professional Formation
Boundaries, Family Dynamics, and Team Health
General Healthcare
End of Life Care
Spirituality and Multi-faith Care
Grief & Meaning
Dementia
Wrap Up and Suggestions from Readers
For today, here are the books I use and recommend both to get the team centered at the beginning of meetings and for my own personal use for daily meditations.
Centerings at Team Meetings & Personal Meditations
Many agencies use this as a time for bonding amongst team-members, checking in to see how everyone is doing, debriefing tough cases, honoring those who've died (i.e., on hospice services), and having time for team members to receive care from someone else.
I recommend keeping it short; 5-minutes for the reading and any discussion of it and 5-minutes for debriefs, reading of names, and other check-ins.
I also recommend being mindful of the faith traditions around the table.  Everyone should feel welcomed, included, invited, and not coerced into listening to material that runs counter to their own beliefs.  This isn't about being politically correct; it's about being mindful, respectful, practicing hospitality and cultural humility.
Talk openly as a group about materials that do and don't work for everyone.  When folks know you're trying to honor and make room for everyone, they're usually pretty gracious about it and open to stretching a bit outside their comfort zone to join the team.
1.) The Book of Awakening, Mark Nepo.  After going through his own experience of cancer, Nepo experienced an awakening that he poetically shares with others, encouraging us to also wake up fully to our lives.  Each day's reading is poignant, succinct, and is followed by reflection questions that I sometimes use and other times do not.
Excerpts are available on Nepo's website.
2.) The Invitation, Oriah Mountain Dreamer.  I first heard the opening words to this book when my favorite professor in seminary read them to us.  I was hooked immediately.  Oriah writes gently and beautifully with powerful insights that are simple but moving.  I read excerpts at team meetings with great feedback.
After being at a party where the conversation seemed superficial and empty, she went home and wrote a piece that began, "It doesn't interest me what you do for a living.  I want to know what you ache for and if you dare to dream of meeting your heart's longing…"  From there, the book was born.
You can read the full poem, "The Invitation" and learn more about Oriah and her other works through her website.
3.) The Four Agreements, Don Miguel Ruiz.  Many know this short, simple yet profound book about how the way we think and see the world impacts our whole lives.  It comes from the tradition of Toltec wisdom and focuses on the following:
Be impeccable with your word
Don't take anything personally
Don't make assumptions
Always do your best
Get this one for yourself, and read excerpts with your team.  It's definitely worth it!  Learn more through the four agreements website.
4.) The Language of Letting Go, and More Language of Letting Go, Melodie Beattie.  When I first start reading from these brief daily meditation books that come from the 12-step recovery tradition and focus on codependence, teams often raise a hairy eyebrow, confused about why I'm sharing something like that with them.
When I smile and ask, "Can any of us as professional caregivers honestly claim not to have at least a LITTLE bit of co-dependence in us?"  They laugh and go, "Oh, yeah!  Go ahead…"
Wanting to please people and pursue perfection and care for others aren't bad traits.  It's when they go amuck that we have problems.  Beattie offers honest reflections from her own journey and hard-gained wisdom to help keep us more centered and healthy, as well.
Learn more about her work and access these books via paperback and also through itunes through her website.
Hopefully something here has been helpful.  Be looking for the next post on books I suggest for personal and professional formation!
Peace,
Carla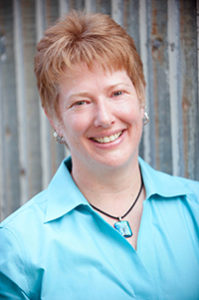 Rev. Carla Cheatham, MA, MDiv, PhD, TRT has served hospices as a chaplain and bereavement coordinator.  She's the Section Leader for the Spiritual Caregivers Section of the National Hospice and Palliative Care Organization and an adjunct professor at the Seminary of the Southwest.  Through her Carla Cheatham Consulting Group, Carla provides training and consulting for professional caregivers nationwide.  She is the author of Hospice Whispers: Stories of Life and its companion volume, Sharing Our Stories: A Hospice Whispers Grief Support Workbook.  Her next book, On Showing Up with Suffering: Others' and Our Own, is set to publish in 2017.