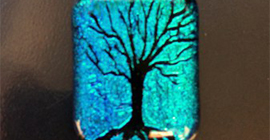 In 2012, I began Carla Cheatham Consulting Group, LLC to deliver my training curriculum, called SCIE™ (pronounced "sky") Spiritual Care Integrity & Excellence, to spiritual care counselors and other healthcare workers.  As the business grew, I became increasingly clear about how to communicate my vision and product to others.  Whether meeting with my lawyer, CPA, graphic artist, business coach, potential clients, or colleagues, I had a very clear picture in my own head and heart but needed to find a way to clearly articulate and represent it to each of theirs!
Designing my business' logo  was one of the most exciting and daunting parts of that process.  Would others judge it as too stiff?….too fru-fru?…too amateurish?…too (insert insecurity here!)  Once I got over myself (mostly) about this, I then grappled with how it would "land" inside others' hearts and minds.  Would it communicate my desire for professionalism combined with down-to-earth openness to all…deep spirituality that's free of judgment or pressure on others…a passion for full-on peace and joy in life even in the midst of struggle and sometimes death?
In my tra
inings, I challenge participants to be mindful of the items they wear.  I, personally, do not wear a cross when I'm working as a chaplain.  I fear that doing so could serve as an instant barrier to anyone of another faith or to those for whom Christianity has been a harsh word of condemnation rather than a liberating word of radical acceptance and grace.  Besides, unlike my work as clergy of a faith community, my work as a chaplain prohibits promoting my own religion, as ethical and regulatory guidelines require me to be present with patients and families and help them access their own beliefs, not mine, to find as much peace and meaning and comfort as possible.
I'm always a bit surprised by how difficult it is for some to let go of their "uniforms" or symbols.  One described feeling the collar gave her a sense of professional credibility in the hospital surrounded by doctors, nurses, social workers, etc., who sometimes consider the chaplain to be "less than" a clinical professional or equal colleague.  Another asked, "Well, how will folks know I'm a Christian if I don't wear a cross?"
And I get that response.  I get how much we desire to be acknowledged and respected professionally; to be able to express our own beliefs.  So my response is to gently (hopefully) open a dialogue, "If ours is a clinical role, then is it appropriate for us to lead with our faith rather than making more open and safe space for patients and families to share theirs, free of fear of our rejection of who they are or how they believe?  Will they tell me their deepest worries or struggles or baggage if I've established myself as being of a particular faith?  Would their stereotypes, for good or for ill, get in the way of our relationship before it even begins?"
I choose to not risk an unintended barrier to that relationship.  (SIDE NOTE:  To be clear, this desire to build a relationship of trust and rapport is NOT about performing a "bait and switch" by trying to get them to feel safe enough with me or "inspired enough" by me that they ask me about my faith so I feel I have a loophole through which to proselytize–that's opportunistic, coercive, and abusive of my position of power in the relationship relative to their vulnerability.)
But…I wanted something to wear, because I'm not above feeling "safer" and "more complete" with a "uniform"!  About 10 years ago, I came across exactly what I was looking for (see pic above) in Austin at the Pecan Street Arts Festival in the booth of local artist, Amy Kappler, whose company is called Hippos Eating Alligators. Amy was one of the first-generation dichroic fused glass artists and she created the above necklace.
Lights shone and choirs sang as soon as I saw it, because I knew it was exactly what I was looking for.  It captured the spiritual but non-religious nature I wanted to communicate to help offer open space to folks who may be skittish of "pastors" or may have baggage about religion they would not share with me if they did not feel safe.  Besides, I think it's pretty freaking gorgeous!  I've worn it almost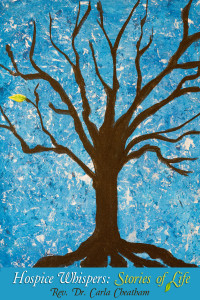 every single day since then.
Each day, I get no less than a half-dozen compliments on it, and as folks comment on or I ask them about what they see in it, they always say, "the Tree of Life".  They also often go on to tell me their stories.  It's always a gentle and spiritual exchange that leaves both of us smiling and feeling more peaceful, with our shoulders relaxing and dropping away from our earlobes where the stressors of life often take them, and our hearts are reminded of love and goodness and a power greater than ourselves.
So as the business began and my graphic artist and I brainstormed about my logo, we had a simultaneous "duh!" moment as I took off my necklace, which she scanned and began working into a digital version for my business logo (many thanks to Amy for granting me full permission for it's use!)
Since then, the necklace became my book cover for Hospice Whispers: Stories of Life as a friend painted it in acrylic and added one small yellow leaf (to be consistent with the "life" theme).  As of last December, Amy has recreated the piece for me to sell through my website so that now others can have access to it.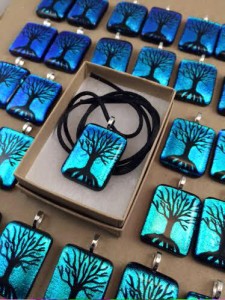 I was clear that image was the bridge I want to clearly communicate to patients, "You are accepted", and to professionals in the healthcare field, "You can create sacred and safe space for others to find their way".  It is what I hope to bring to each interaction with patients, families, colleagues, workshop or conference attendees, agencies for whom I consult, and my readers.
Now, to let all of my life communicate that as clearly and constantly…
Peace
For more information, visit http://carlacheatham.com/CCCG_SiteRevamp or http://carlacheatham.com/CCCG_SiteRevamp/products/ to order.  For the audio or e-book version of Carla's book, go to Amazon.  To schedule Carla for training live or via webinar for your group of 1 to 1,000 or for consulting for your practice or agency, contact her by clicking here.