Friends,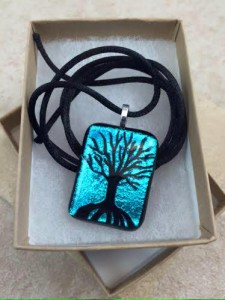 After numerous requests the past few years, and months of working with the artist, the necklace I wear every day that became the book cover for Hospice Whispers: Stories of Life is now available!
Each piece is a replica of my necklace but, because of the nature of the glass and firing technique, will have it's own unique look and character.
You will receive the pendant with silver-plated bell, silk chord (clasp not included), gift box, and the story of the Hospice Whispers necklace for $39.95 plus 8.25% tax ($43.25 total per necklace).
In the Austin area, I'll hand deliver it to you.  Outside of the Austin area, please add $3.50 S&H.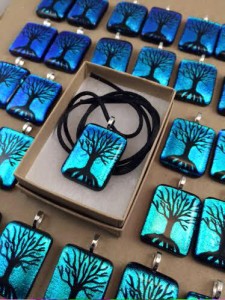 Payments can be made by clicking this PayPal link
4417 Banister Ln
Austin, Texas 78745
Please included your shipping address and phone number, in case I need to reach you about your order or so I may arrange hand delivery!
Items will be delivered once payment is received.  All sales are final.  Email me at carla@carlacheatham.com for more information.
I hope you enjoy this beautiful piece, with a long story of love and life behind it.  I look forward to sharing it with you!
Peace,
Carla