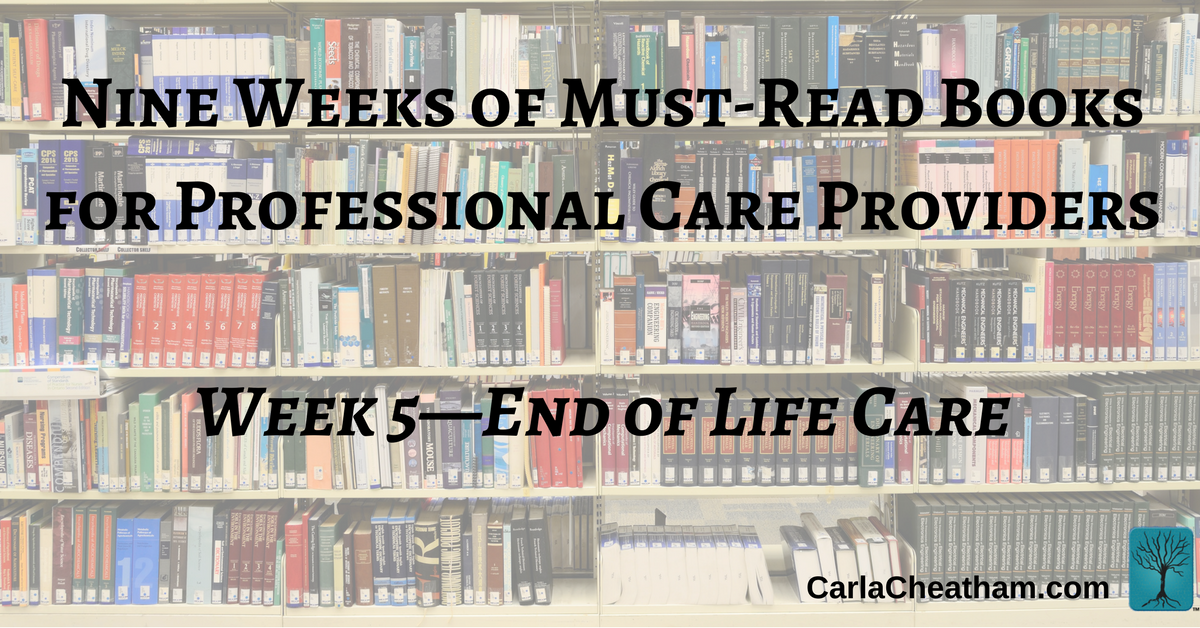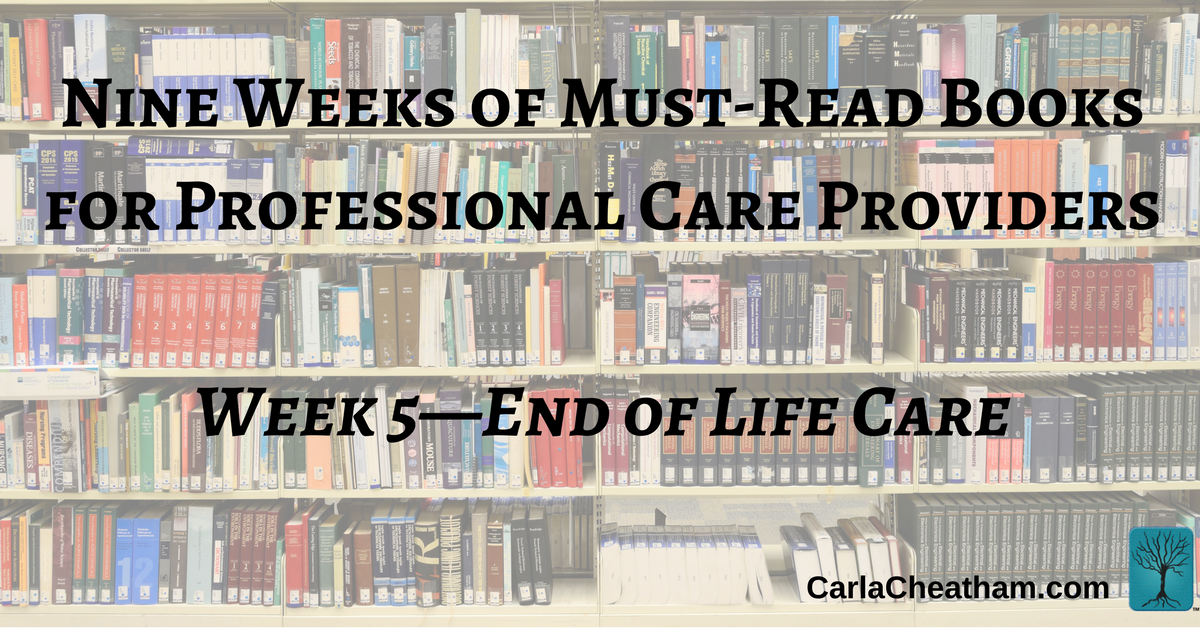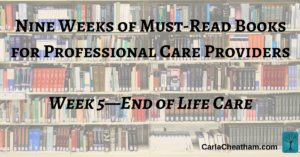 Nine Weeks of Must-Read Books for Professional Care Providers
Week 5—End of Life Care 
With the cold weather, it's more tempting to curl up and read, so I'm posting the books and videos I most recommend to caring professionals and to which I refer in my trainings.  It's not an exhaustive list and does not necessarily contain the latest titles, but they're what I know works to support us while we prepare ourselves to support others.  I hope you find these helpful. 
End of Life Care
Videos
1.) Dying Wish (DVD), Karen Van Vuuern, Wise Word Productions
A physician with cancer makes the choice to Voluntarily Stop Eating and Drinking (VSED) and allows his journey to be documented to share with others.  A simple, powerful introduction to the concept, currently considered legal in all 50 states.  It will make you think, wrestle with your own views, and find greater clarity.
Learn more at  http://www.dyingwishmedia.com/
2.) A Family Undertaking (DVD), Elizabeth Westrate, Five Spot Films
The home funeral movement has grown in recent years, with many wanting to reclaim a natural connection with death.  This documentary follows the stories of those who've made the choice for a home funeral and burial in a touching and personal look behind the veil that seems such a mystery to so many.
Available for purchase through PBS http://www.pbs.org/pov/afamilyundertaking/
3.) New Rules for End of Life Care (DVD), Barbara Karnes
From the author of the "little blue hospice book" called Gone From My Sight, this DVD goes even deeper into providing information that can be helpful to both clinicians and lay persons.  Covering what to expect, medications, hydration, nutrition, and much more, this video will help everyone feel more comfortable with and prepared for caring for someone at the end of life.
Available at https://bkbooks.com/shop/new-rules-end-life-care-dvd-kit-guide-stages-death

Books
4.) Being Mortal, Atul Gawande
This surgeon certainly took the country by storm with his brilliant critique of both society and medicine's approach to death, the practice of medicine, and end of life care.  With a clear style and articulate arguments, he explores our current state and lays out a path for us all to follow to make the changes necessary for a better outcome for us all.
5.) It's OK to Die, Monica Williams-Murphy & Kristian Murphy
An ER physician who grew tired of running full codes on 97-year old grandmothers, cracking every rib in their body with the first chest compression, because of our fear of letting go, Dr. Monica Williams-Murphy decided to do something about it!  I first heard Monica speak a few years ago at a national hospice conference and fell in love with her spirit, immediately.  Feisty and passionate, with brilliance and charm, she writes a book that is easy for anyone to grasp but that also provides great insight to professionals about having those dreaded end of life conversations with patients and families.  It will make you think and make you cheer.
Learn more at:  http://www.oktodie.com/
6.) Notes from Theme Park Earth:  A Hospice Nurse's Personal Journey of Life, Loss and Everlasting Love, Nancy Butler.
What does it look like when a hospice nurse experiences hospice from the other side of the bed?  My friend and former colleague opened her still-grieving heart to share stories and insights with all of us about the journey with her husband through diagnosis, decline, and a lot of life and music and love.
As a seasoned hospice nurse, Nancy was in a unique position to see themes and lessons that many may have missed.  She weaves them together for us by sharing many glimpses behind the veil of grief and her own professional service.  Touching on many levels, it is far from a depressing read and is, in fact, truly inspirational.  As Nancy says, "Dying is sad, but it doesn't have to be grim."
Learn more at: https://www.chandlerdesignslimited.com/store/index.php?main_page=product_info&cPath=96_97&products_id=237
7.) Hospice Whispers: Stories of Life, Carla Cheatham.
Okay, I won't practice false modesty; I'm truly proud of this book.  Based on examples shared in a training curriculum for hospice and palliative care professionals, this collection of 38 stories was published to help persons increase their comfort with hospice and decrease their fear of death.
The unintended by-product has been that it has helped persons fear their own death less, learned more about how to show up better for patients and families (including their own), and has helped persons process their grief around their own story of life in the face of death.  As one reader recently stated, "While reading this book, I laughed, I cried, and I heaved a huge sigh of relief!"
Learn more at: http://hospicewhispers.com
Once again, I hope something here has been helpful or inspiring.  Be watching for next week's post on books related to Spirituality and Multi-faith Care.  Until then, please share your own most-recommended reads with me, so I can share them with others.
Peace,
Carla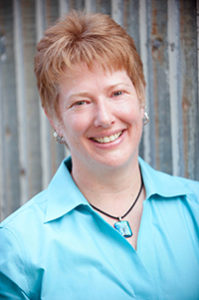 Rev. Carla Cheatham, MA, MDiv, PhD, TRT has served hospices as a chaplain and bereavement coordinator.  She's the Section Leader for the Spiritual Caregivers Section of the National Hospice and Palliative Care Organization and an adjunct professor at the Seminary of the Southwest.  Through her Carla Cheatham Consulting Group, Carla provides training and consulting for professional caregivers nationwide.  She is the author of Hospice Whispers: Stories of Life and its companion volume, Sharing Our Stories: A Hospice Whispers Grief Support Workbook.  Her next book, On Showing Up with Suffering: Others' and Our Own, is set to publish in 2017.